Content area
Vision
The Stuttgart Research Center for Complex Systems and Communication is an interdisciplinary research center which focuses on modeling, analysis and design of complex networked systems in engineering and social sciences.

Complex networked systems such as automated traffic systems, decentralized energy networks, integrated production systems, and social networks are becoming increasingly important in todays technology and society. On the other hand, the steadily growing complexity of these systems makes them more fragile and unpredictable. Therefore, it is of central importance to initiate a research effort in this direction to minimize potential risks of such systems and to exploit their potential for future development.

The mission of the SR3C is to provide a scientific foundation for such complex networked systems. A primal research goal is to study the dynamics of such networks and their communication architectures as well as the interplay of these systems with humans. Additionally, the goal is to develop systematic methodologies and engineering tools for the design of reliable complex networked systems that interact with humans.

Research in the area of complex systems has a long tradition at the University of Stuttgart dating back to the 60s. Various collaborative research centers (CRC) and study programs, like the highly successful study program Engineering Cybernetics or the CRC »Nexus« and »Inkrementelle Spezifikationen« provide a vital research foundation and environment for the center.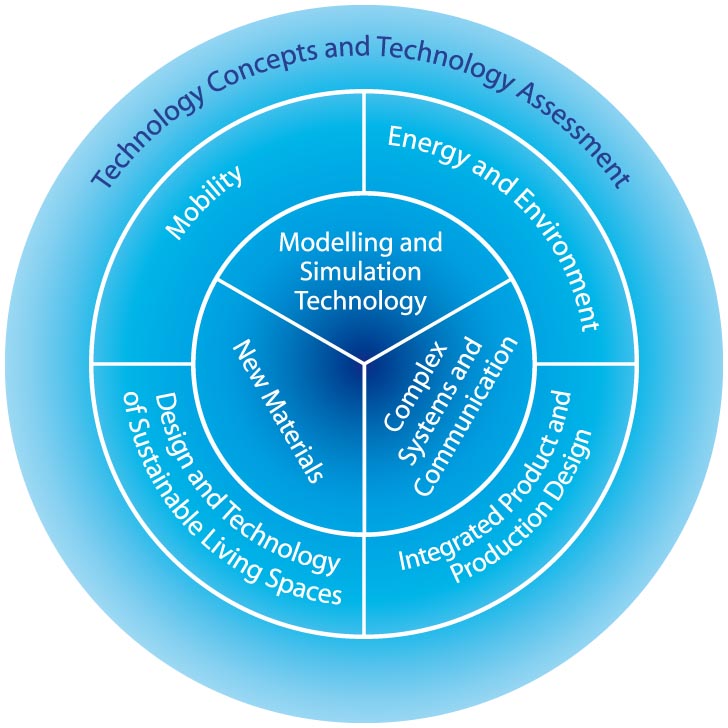 Technology Concepts and Technology Assesment
The University of Stuttgart has forged a forward-looking research profile in the form of its Structural and Development Plan (SEPUS), which places particular emphasis on interdisciplinary cooperation and training the scientists of tomorrow. Its research work concentrates on eight key research fields (SEPUS figure) in close collaboration between the ten faculties of Architecture and Urban Planning; Civil and Environmental Engineering; Chemistry; Energy Technology, Process Engineering and Biological Engineering; Computer Science, Electrical Engineering and Information Technology; Aerospace Engineering and Geodesy; Engineering Design, Production Engineering and Automotive Engineering; Mathematics and Physics; Humanities; and Management, Economics and Social Sciences.